39th AGHS National Conference – Gardens in Times of Peace and Conflict
26 October 2018

-

30 October 2018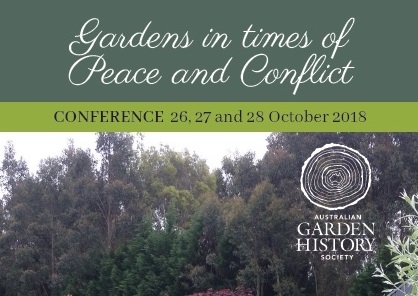 AGHS's Southern Highlands branch is hosting the 39th annual national conference of the Australian Garden History Society. Its theme is Gardens in Times of Peace and Conflict.
The conference will be held on Friday 26 to Sunday 28 October 2018 in the Southern Highlands of New South Wales, with an optional day of activities on Monday 29 October 2018 and a pre-conference symposium on Thursday 25 October. The Conference program is now finalised.
Bookings now open! Book online at

Trybooking.
Charlotte Webb will open the conference with an overview of the Southern Highlands' history and an introduction to the development of living memorials in Australia.
Other speakers will include
Adrian Howard on the completion of Hobart's Soldiers Memorial Avenue
Phil Roberts on Ballarat's Avenue and Arch
Ian Scott and Greg Jackson on the Remembrance Driveway
Graham Wilson on the diversity of war memorials as part of Australian cultural landscape
William Oates on women's contribution to the war effort (Agricultural Security Production Service)
Frances Simons on gardens created by prisoners of war
Linda Emery on the 'Poppy seed project'
Elizabeth Ganguly on the Commonwealth War Graves Commission and the designs of the cemeteries and memorials by eminent people such as Sir Edwin Lutyens and Gertrude Jekyll
Stuart Read on the need for AGHS to lead in advocacy for our landscape heritage, sometimes ruffling feathers
John Dwyer on weed conflicts and why it should be time to call a truce.
The conference will be held in the Mittagong RSL which has excellent facilities including a motel (Springs Resorts) and is close to shops and accommodation. A day and a half of lectures will be followed by a day and a half of garden visits. The optional Monday tour of six gardens should not be missed.
The Symposium—Fuelling the Fire
The symposium precedes the conference and takes place on Thursday 25 October 2018. A coach will leave the Mittagong RSL at 10.45 am to take the participants to Joadja Creek Valley and return to the RSL by 5.30 pm. For full details view the Symposium brochure.
Book for the Symposium online at Trybooking.
Conference Lectures
Friday 26 & Saturday 27 October
Mittagong RSL, Cnr Hume Hwy & Bessemer Street, Mittagong
Conference Dinner:
Saturday 27 October, 7.00 pm
Peppers Manor House, Kater Road, Sutton Forest
Garden Visits
Saturday 27 October and Sunday 28 October
Coaches will depart from and return to the Mittagong RSL.
Visits will be to significant gardens in the area including: Retford Park, Greenbrier Park, Oldbury, Somerleys, Rotherwood, Red Cow Farm, Southern Highlands Botanic Gardens.
Optional Day
Monday 29 October
8.45 am coaches depart from Mittagong RSL.
The optional day tour will visit three private gardens in Bowral & Burradoo, and three country gardens: Whitley (Sutton Forest), Mossy Bank (East Kangaloon), The Kaya (Wildes Meadow).
Accommodation form:
The Wingecarribee Shire Council Tourist Office (Destination Southern Highlands) has provided this information to assist you. They have block-booked many rooms in the area. Please direct any enquiries about accommodation to them (phone: 1300 657 559). The Accommodation Booking Form should be posted to Destination Southern Highlands (see form for details).
Pre- and post-conference tours with Trisha Dixon
Pre-conference Tour: Monday 22 October – Wednesday 24 October. (View draft itinerary)
Post-conference Tour: Tuesday 30 October – Thursday 1 November (View draft itinerary)
The 3-day/2 night identical tours will look at historic gardens, houses and landscapes in the Goulburn and Taralga district with links to writers Miles Franklin, Dame Mary Gilmore and Beatrice Bligh as well as the great pioneering wool story of Eliza Forlonge.
Tours will start and finish at the Mittagong RSL. Two nights' accommodation Mercure Goulburn is included in the cost.
Full Tour cost: $845 twin share (and $985 single supplement)
Tours are limited to 45 people.
Post-conference Tour
A tour to New Zealand post-conference is being organised by Lynne Walker. Please direct any booking or itinerary enquiries through the AGHS Office (03 9650 5043 or 1800 678 446).
Further details at www.gardenhistorysociety.org.au/events-conference/2018-new-zealand-south-island-garden-tour/
Booking details
Book for the conference, optional day and the pre- and post-conference tours at: www.trybooking.com/book/event?eid=346928&
Book for for the symposium at: www.trybooking.com/book/event?eid=381239&
EFT Transfer Payments
If you would like to pay by EFT to the AGHS Conference Account instead of Credit Card on Trybooking, type 'cash' in the promotions code on the checkout page and press apply and complete.
Forward your payment to:
Conference Account
BSB 012 006
Account  217729708
Reference:  Your Surname
Please phone Head Office for more information  9650 5043 or 1800 678 446.