AGHS tours to India and Sri Lanka
8 February 2020 @ 8:00 am

-

3 March 2020 @ 5:00 pm

AEDT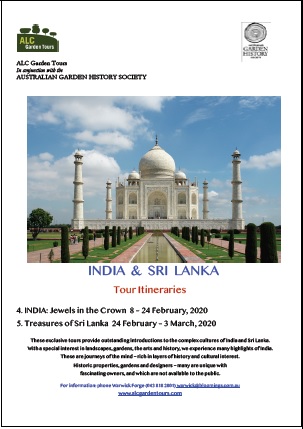 Come and join our February 2020 tours to India and Sri Lanka led by Warwick and Sue Forge.  Warwick has paid seven visits to India and Kashmir including a study tour of Mughal gardens with Penelope Hobhouse. In 2017 he took his first trip to India as Tour Leader which was a huge success. With Peter Watts and Dame Elizabeth Murdoch, Warwick was one of the founders of the AGHS.
In terms of garden heritage, India and Australia have some parallel gardens heritage and similar conditions.
This is a cultural tour featuring various gardens and landscapes with special visits to modern gardens of Aniket Baghwat, the leading garden designer in India. We visit the President's vast Palace Gardens, and a wide range of private gardens including some outstanding modern gardens in Ahmedabad.
We are introduced to various owners, designers and an Artists Colony, a temple that feeds 50,000 daily, an elephant refuge (former hunting lodge), a private residence with a stunning art collection, not to mention Fatehpur Sikri, Agra,  various forts, palaces, gorgeous old hotels, the Taj Mahal at dawn, a tour of the Lodi Gardens with expert Pradip Krishen, Jaipur, Khajuraho, Varanassi and so much more!
'Our members will love this tour and the personal contacts and gardens really make for a very personal and special experience'.
– Lisa Tuck (AGHS) tour participant, 2017.
Tour dates:
India: Jewels in the Crown 8–24 February, 2020
Treasures of Sri Lanka 24 February–3 March, 2020
For further details download the detailed tour itinerary or download the overview brochure.
For further information:
phone: Warwick Forge (043 818 2801)
email: warwick@bloomings.com.au