Sydney Branch: "Marion's Garden" – webinar by Glenda Korporaal
23 September 2020 @ 6:00 pm
AEST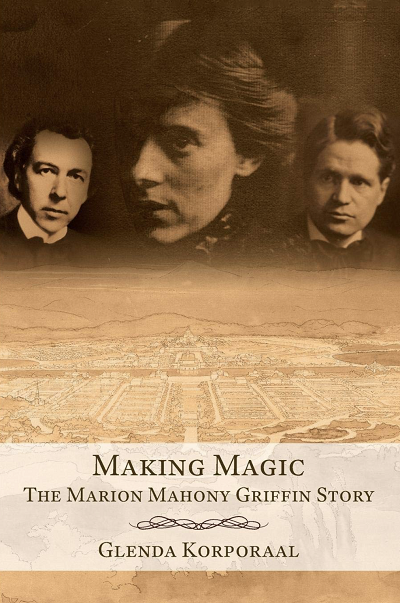 One of the first women architects in America, Marion Mahony Griffin is better known in Australia as the wife of Walter Burley Griffin, the designer of Canberra. But Marion was a talented woman in her own right – an architect, an artist and a passionate environmentalist who fell in love with the Australian bushland and native Australian flowers.
Writer Glenda Korporaal will tell the story of Marion's passion for the natural world – from her home growing up north of Chicago to Australia where she moved with her husband in 1914. Appalled at how English Australia was at the time, Marion argued strongly to her Australian audience that when designing gardens they should drop their predilection for choosing European plants and use mostly Australian plants.
Marion combined her drawing skills with her love of the Australian flora in a series of studies called her Forest Portraits of Australian Trees, featuring Angophoras. In the suburb of Castlecrag, where she and her husband set up an ideal suburb in the 1920s, she surprised the locals by insisting on planting gum trees along the denuded headland. Marion saw the outdoor world as a garden to be nurtured and protected, drawn  and recorded for history.
Sydney journalist and author, Glenda Korporaal has spent more than a decade studying Marion's life. She wrote her first biography, Making Magic: The Marion Mahony Griffin story, and continues her enthusiasm for her as a board member of the Walter Burley Griffin Society. She is also involved in planning events to celebrate events for Marion's 150th birthday next year.
Glenda Korporaal has been a journalist for more than 40 years working on the Sydney Morning Herald, the Australian Financial Review and now the Australian newspaper. She has been deputy editor of the Australian Financial Review, business editor of The Bulletin, editor of the Australian's deal magazine and worked as a correspondent in London, Washington, New York and Hong Kong. She was also the Australian's correspondent in China from 2018 to 2019. She is now based in Sydney where she is associate editor (business) for the Australian newspaper.
Glenda received an OAM for her services to print journalism in the Australia Day honours of 2019.
Note: This talk will be held via Zoom.
Cost:  $10 members; $15 non-members.
Book at TryBooking.