Vic Branch: Autumn Lecture – 'Robert Fortune, a Plant Hunter in the Orient'
18 May 2017 @ 6:00 pm
AEST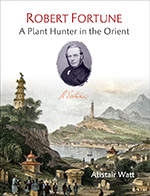 Thursday 18 May – 6 pm for 6.30 pm

Autumn Lecture – 'Robert Fortune, a Plant Hunter in the Orient'
Talk by Alistair Watt
Scottish plant collector Robert Fortune became famous among botanists for working and travelling in China and Japan from 1843 to 1861, a time when China forbade Europeans from travelling beyond the confines of a few coastal treaty ports.
Alistair Watt has written the first full biography of Fortune, Robert Fortune, a plant hunter in the Orient, published by Kew Gardens and it uses substantial un-studied materials, detailing his travels, collections, and more, and featuring the first maps ever produced that track his collecting itineraries in China.
Watt, a plant hunter himself, brings Fortune to life, showing us how he travelled in disguise in China, and clearing up some misconceptions about his role as a scout for a possible tea industry in India the United States. The result is a rounded portrait of an extraordinary man, his times, and his lasting contribution to horticultural knowledge.
Venue: Mueller Hall, National Herbarium, Birdwood Avenue, South Yarra.
Cost: AGHS Members $20, Non Members $25, Students $10 with student card.
Book on Trybooking: https://www.trybooking.com/book/event?eid=246054&bof=1
Enquiries to: Lorraine Powell, Chair, AGHS Victorian Branch 0458 477 388 or lorraineepowell@gmail.com.