Vic Branch: Autumn Lecture – Putting Mount Boninyong Homestead garden into context
10 April 2017 @ 6:00 pm
AEST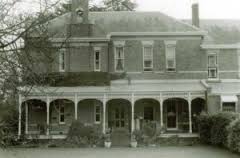 Monday 10th April – 6 pm for 6.30 pm
Autumn Lecture –Putting Mount Boninyong Homestead garden into context
Eight generations, one garden. The family stories and the historical overview as told by the owner and the historian.
Antoinette Birkenbeil will be looking at the background of political, religious and economic reasons for leaving of their Glasgow estate, "Larchgrove", at the entries from the memorandum book which detail the plans for the garden, the seeds and cuttings which they brought with them, their arrival in Australia with their four children, the relationships with neighbours including Katherine Kirkland-Hamilton, the colonial woman author, and reading excerpts from the station diaries and receipt books concerning the creation of Mama's garden, as it was always called, and evolution of the homestead through the tumultuous years of fire, flood, drought and the discovery of gold in Buninyong.
The working farm prospered and the second property also benefited from Mama's knowledge and skill in the garden. As subscribers to the creation of the local school, they also provided food in times of need. The Scottish baronial mansion built by son Robert in 1884 is still graced by the ancient magnolias, camellia and hollies brought out on their journey in 1838.
The family history from a more personal point of view will be covered by Celia Scott nee Burnham's  talk and also the plans for protecting the garden into the future.
Venue: Mueller Hall, National Herbarium, Birdwood Avenue South Yarra.
Cost: AGHS Members $20, Non Members $25, Students $10 with student card.
Book through: https://www.trybooking.com/book/event?eid=246053
Enquiries: Lorraine Powell (lorraineepowell@gmail.com), Chair, AGHS Victorian Branch.