Webinar: Governor La Trobe: His Melbourne House and Garden
29 October 2020 @ 6:00 pm
AEDT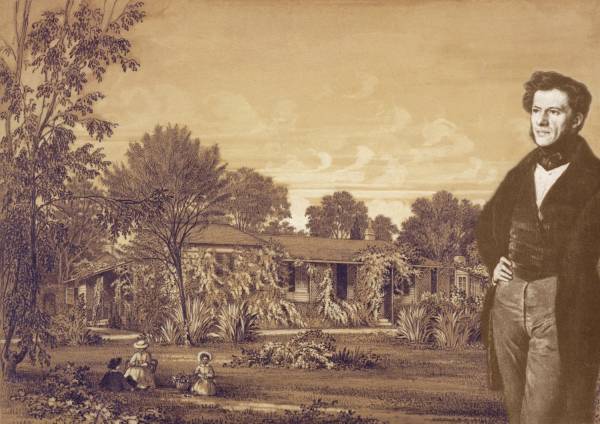 Webinar via Zoom by Helen Botham
Most Victorians are not aware that our first Lieutenant Governor, Charles Joseph La Trobe, developed a beautiful garden around his  2½ acre Jolimont estate during the nearly 15 years he spent in Victoria. His home and garden became an oasis for him and his family in this foreign land. Drawings by Edward La Trobe Bateman completed in 1853 give us a flavour of the little every-day matters of life at Jolimont in its hey-day, and show how the garden had become a haven of Mediterranean and Australian native plants. Present-day  photos show the plants currently growing in the La Trobe's Cottage garden, some of which we know he grew, and some which were named after him. After La Trobe returned to Europe in 1854, his estate was subdivided. The cottage remained until 1964 – its story, leading to its ownership by the National Trust, will be revealed.
Helen Botham has carried out research into garden history for the National Trust and the Australian Garden History Society and was a researcher and contributor to the Oxford Companion to Australian Gardens. Being also a member of the La Trobe Society, and founding chair of the Friends of La Trobe's Cottage, she has a particular interest in the garden La Trobe created at Jolimont and now coordinates the La Trobe's Cottage garden volunteer group. Her book, published in 2006, La Trobe's Jolimont – A Walk Around My Garden uses the illustrations of Edward La Trobe Bateman to give an insight into La Trobe's Jolimont estate and the people who lived there.
Bookings: Trybooking.
Tickets: AGHS members $5, Friends RBG $5, Non-members $10.
Further information: Wendy Dwyer aghsvicbranch2@gmail.com.
Photo credit: E. La Trobe Bateman, Front view of Jolimont, Pictures Collection, State Library Victoria.