Vic Branch: Lecture – Purdom and Farrer: Plant Hunters on the Eaves of China
16 May 2019 @ 6:00 pm
AEST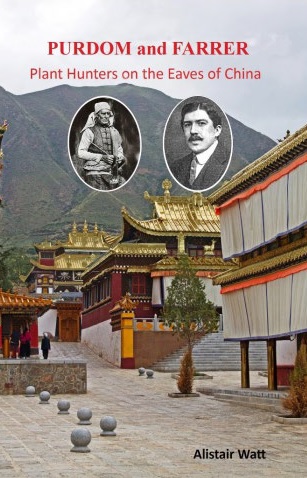 In this lecture we will hear of two unusual men, both born in 1880, the year of the death of the great plant hunter, Robert Fortune. William Purdom was the eldest son of a head gardener in the English Lake District. Reginald Farrer was the first scion of landed gentry who owned huge estates in the Yorkshire Dales. Despite their vastly contrasting backgrounds their common interest in alpine flowers brought them together in expeditions to hunt for new plants for British gardens on the mountain slopes of China, the walled Gansu city of Siku and to the Buddhist Lamas of Tientang and Chebson . Both died young but their legacy of beautiful plants, some bearing their names will remain alive always.
Alistair Watt has been a gardener and semi-professional plant hunter for over 30 years. Based in Australia, he has visited and botanically explored in many countries around the Pacific Rim including China, Chile, New Caledonia and Fiji.  His first book, published by Kew Botanic Gardens in 2017, Robert Fortune: A Plant Hunter in the Orient, was described by Sir Roy Lancaster as a 'meticulously researched biography which I believe will come to be regarded as a classic of its genre'.
Venue: Mueller Hall, National Herbarium, Birdwood Avenue, South Yarra.
Time: refreshments from 6 pm, lecture 6.30 pm.
Cost: AGHS Members $20, Non Members $25, Students $10 with student card.
Book online: at www.trybooking.com/BBDHG.
Book sales: Alistair's latest book Purdom and Farrer: Plant Hunters on the Eaves of China will be available to purchase. Cash sales only. No credit cards. Personal cheques accepted.
For more information contact Robyn on 0418 353 528 / robynrobins2@gmail.com.