Webinar: Botanic Endeavour
18 November 2020 @ 7:00 pm
AEDT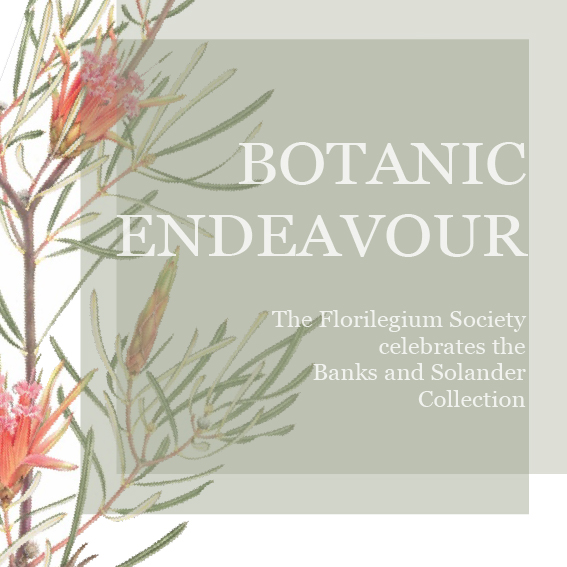 AGHS Sydney Branch invites you to Botanic Endeavour: The Florilegium Society celebrates the Banks and Solander Collection a webinar by Colleen Morris.
The Florilegium Society was formed in 2005 to create a collection of contemporary botanical paintings of plants in the living collections of the Royal Botanic Gardens and Domain Trust. It is a self-funded voluntary society, endorsed by the Trust. The original paintings and the copyright are gifted by the artists to the Trust and held in the Daniel Solander Library in the National Herbarium of New South Wales. Colleen curated an exhibition Florilegium: Sydney's painted garden at the Museum of Sydney in 2016. This showcased the Society's project to celebrate the bicentenary of the Royal Botanic Garden, Sydney.
Botanic Endeavour is the Florilegium Society's latest project and the publication of the book co-incided with the 250th anniversary of the collection of plant specimens along the east coast of Australia by Sir Joseph Banks and Dr Daniel Solander. Through this new collection of paintings, our aim was to illustrate the link between the historic Joseph Banks and Daniel Solander specimens held in the National Herbarium of New South Wales and the plants cultivated in the Living Collections of the three Gardens of the Royal Botanic Garden and Domain Trust.
Colleen discusses the background to the book, the herbarium collection, the paintings, and the search for the Aboriginal names for the plants featured in the book. The Botanic Endeavour exhibition planned for in 2020 will now be held in August-September 2021.
Colleen Morris is a landscape heritage consultant, author and curator specialising in garden history, cultural landscape assessment and conservation management. She has prepared conservation plans for many of Australia's most significant historic gardens, including the botanic gardens of Adelaide and Sydney and Sydney's Government House and Domain. She has a particular knowledge of plant introductions to Australia and was instrumental in devising the Colonial Plants database for Sydney Living Museums. A more recent project undertaken with Christine Hay and James Quoyle was the AILA Landscape Heritage Conservation Listing project.
Colleen was the National Chair of the Australian Garden History Society from 2003-2009, is Deputy Chair of the National Trust (NSW) Landscape Conservation Committee and is a member of the Heritage Council of NSW. For the past 10 years Colleen has been a committee member of The Florilegium Society at the Royal Botanic Gardens and Domain Trust, Sydney.
Cost: $10 AGHS members; $15 non-members.
Book at Trybooking.
This webinar will be via Zoom.