Tasmania Branch: AGM & Winter Lecture 3
28 August 2022 @ 2:00 pm
AEST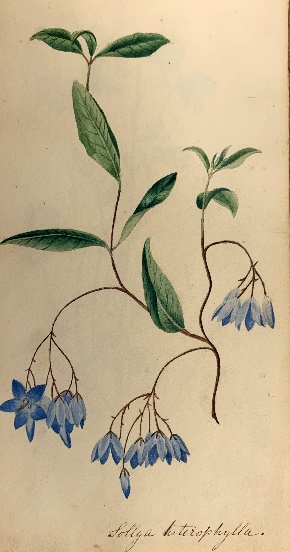 Following the AGM of the Tasmanian Branch of the Australian Garden History Society, Ann Cripps will present Winter Lecture 3 on "The Early Nurserymen & Gardeners of Hobart Town"
Ann Cripps, historian, garden lover and AGHS member, will discuss some of the fascinating links between the people who were part of the gardening, scientific and botanical world of Hobart Town and beyond.
Her book, Gardeners, Plant Collectors, Friends, Hobart Town and Beyond, described by Emeritus Professor Kate Warner as "… a concise, compelling and delightful read" will be launched at the AGHS National Conference in Hobart in November. Refer below for AGHS discount offer.
Ann's presentation is followed by afternoon tea.
Venue: Battery Point Community Hall 52 Hampden Road.
Cost: this event is free but please book for catering purposes.
Book at: Trybooking.
Enquiries: Wyn Manners – wmanners2@bigpond.com or  0417 921 310.
Image: Sollya from Frederick Mackie's 1870's sketchbook (Private collection).
AGM
This meeting is also our AGM and we are seeking a treasurer and a number of new committee members. For more information about joining our lively and welcoming committee, please contact either of our Co-chairs Jean Elder 0419 310 696 or Rosie Mackinnon 0408 922 601.
Gardeners, Plant Collectors, Friends: Hobart Town and Beyond by Ann Cripps
Fullers Publishing is offering a 20% discount to AGHS members who pre purchase the book before 31 August 2022. Go to Fullers Bookshop to order or phone (03) 6234 3800. Orders sent in early spring 2022.