Tasmania Branch: Cultural Landscapes Past and Present
9 April 2022

-

10 April 2022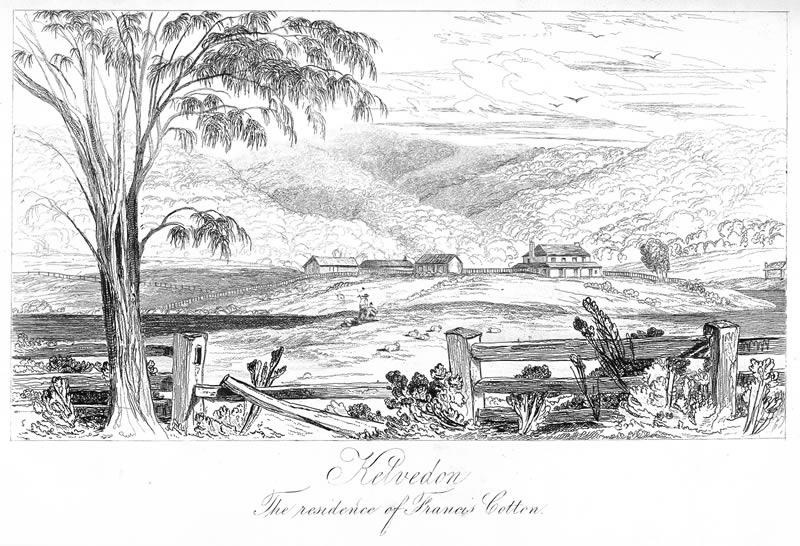 An early etching of Kelvedon by James Backhouse, UTAS Library.
Cultural Landscapes Past and Present from Buckland to Cranbrook, Central East Tasmanian Coast – a weekend exploration.
Our first day, Saturday 9th April, begins at Buckland with the Tasmanian Bushland Garden created from a disused quarry by volunteers, continues on to the Spring Bay Mill, Triabunna, for a buffet lunch and two hour exploration of the landscaped site with Marcus Ragus, head horticulturist and former manager RTBG, and concludes 10 km south of Swansea at Kelvedon, owned and managed continuously by the Cotton family for five generations from 1829.
Please make your own arrangements for overnight accommodation and dinner.
Our second day, Sunday 10th April, begins in Swansea with a lovely twenty year old town garden, travels north for 16kms to Cranbook to explore some of the early properties granted to the Meredith, Lyne, and Amos families, and includes visits to Glen Gala and Cranbrook House. We hope it may be possible to visit Cambria to see what remains of George Meredith's house and garden, referred to in its time as "the Government House of the East Coast", and to learn more about the Cambria Green Development.
Cost: $130 members. Includes donation to the Tasmanian Bushland Garden, buffet lunch and guided tour Spring Bay Mill, and entry to all other properties included in this event.
Please make your own arrangements for overnight accommodation & dinner Saturday night, and lunch on Sunday.
NB The guided tour around the Spring Bay Mill site consists of a two-hour walk with stops – if mobility is a problem there are a few places available in an electric vehicle. Please reserve a place by emailing the contact below.
Detailed itinerary and any additional information 
Will be emailed to ticket holders.
Bookings: close by 17th March. Please note that initially all ticket holders must be members. A later email will advise if there are vacancies for accompanying non-members.
Book at: Trybooking.
Cancellation Policy
Bookings can be cancelled and refunded through Trybooking provided there are ticket requests on a waitlist, otherwise a refund is not possible. Bookings or refunds for parts of an event are not possible. Please email contact person: prueslatyer@gmail.com.