Tasmania Branch: Winter Lecture 2 – Cemetery Landscapes
31 July 2022 @ 2:00 pm
AEST
Winter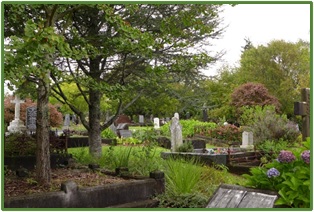 Lecture 2 – Helen Page – Cemetery Landscapes
In the United Kingdom, New Zealand and the USA, historic cemeteries are being transformed into beautiful spaces for the community to share and enjoy. They are being planted to provide habitat for wildlife and to counter some of the effects of climate change. Sadly, Australia is yet to embrace these ideas.
In this lecture Helen will share the stories of some of our historic cemeteries and talk about the wonderful work being carried out in many overseas cemeteries. Afternoon tea will follow the lecture.
Helen Page, a horticulturist, has been an AGHS member since its inception in 1980. For many years she was a member of the Victorian Committee serving ten years as Branch Chair and two terms on the National Management Committee. Helen established a Victorian AGHS program of working bees to support owners of historic gardens. This program still runs today. Until recently Helen was a member of the Boroondara (Kew) Cemetery Trust in Melbourne and for the last six years has led a working bee program there with an enthusiastic group of local residents who are returning it to the garden cemetery it was in the late 1800s.
Venue: Battery Point Community Hall, 52 Hampden Rd, Battery Point.
Cost (includes afternoon tea): $25 members of AGHS and AILA, $30 non-members.
Book: at Trybooking.
Cancellation policy: Bookings can be cancelled and fully refunded before Monday 25 July through try booking by emailing Wyn Manners: wmanners2@bigpond.com. After this date, refunds are possible only if there are ticket requests on a wait list.
Enquiries: Wyn Manners, Events Coordinator, wmanners2@bigpond.com or 0417 921 310.