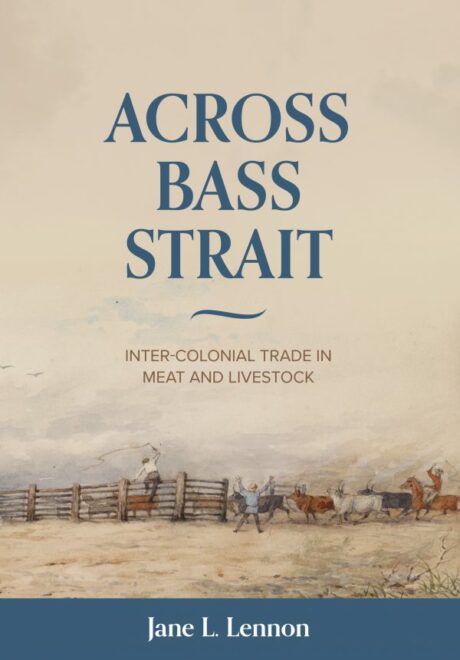 Review by Rosie Mackinnon, co-chair, Tasmanian branch of AGHS
This is an historical account of how the agricultural and maritime economies were shaped in Gippsland, Victoria and southeast Tasmania in the 1800s.
Risks were immense – storms, droughts, negotiating shipping contacts for meat and vessels, building shipyards, abattoirs, sale yards and ports and circumventing scurrilous middlemen.
The arrival of convicts in Tasmania created a demand for food. Once the cattle trade began, crews had an arduous time feeding and tending to stock across Bass Strait. They were supplied with fresh meat and 3 gallons (13.5 litres) of rum for an 11-day voyage – the seas can be extremely rough!
I found the stories of moving semi-domesticated stock through wild country, over beaches and onto vessels most interesting. Note the front cover image showing William Strutt's 1850 watercolour 'Shipping Cattle at Liardet's beach, Sandridge'. Details of how private traders built the infrastructure to load livestock and contraband to circumvent government and monopolistic influences reveal the typical gung-ho attitude of the day.
The goldrush years brought new challenges for the mariners. Again their ingenuity and resourcefulness produced opportunities for gain. However, as one commented, 'the richer men get in this world, the more they slave themselves to get more money and never have time to enjoy it'.
Lennon explains the advent of steam and how it changed sail times and costs. Sadly it was the end of sail. Her detailed account relies on letters, diaries and newspaper bulletins and it reveals an otherwise little-known aspect of early settlement. The endnotes are an excellent resource for those interested in further study.
In December 2020, Jane was made an Honorary member of the International Council on Monuments and Sites (ICOMOS) for her distinguished service to conservation in Australia and internationally.
Across Bass Strait Inter-Colonial Trade in Meat and LivestockCommendation in the 2022 Victorian Community History Awards