'Colour, light, space and texture were essential to Margo Lewers' art and design philosophy'.
Tempe Beaven reviews Margo Lewers No Limits, Grasstree Press, Mosman NSW, 2022 contributors: Tanya Crothers, Glenn Harper, Darani Lewers, Virginia Mitchell, Gina Plate and Catriona Quinn.
The modernist philosophy can be experienced as one meanders amongst the vibrant flowers, the striking succulents and cacti, the smooth river pebbles and organic sculptures in Margo Lewers (1908-1978) garden at Emu Plains, near Penrith: a garden intimately connected to the house it surrounds.
Margo's life and work as a visual artist and pioneer of Modernism in Australia is celebrated in this beautiful book of five essays by her daughters, Darani Lewers and Tanya Crothers, and experts Gina Plate, Catriona Quinn, Glenn Harper and Virginia Mitchell. The third essay, 'Margo's Garden', will be of particular interest to AGHS members and other garden devotees.
Margo and her husband, the sculptor Gerald Lewers, were some of the small number of aspiring Australian artists who travelled overseas in the 1930s to study.  There Margo learned to apply her intuitive use of colour in visual abstraction and found inspiration in modern European interior design, art and architecture.
On their return in 1935, Margo struggled to establish as an experimental artist due to the more traditional attitudes of the Sydney art establishment and the societal challenges facing women artists.  Defying convention, she developed her own visual expression under the tutelage of the Hungarian painter and print maker, Desiderius Orban. The ongoing success of her paintings and diverse and experimental media attests to her artistic ability.
In Margo Lewers No Limits, Lewers, Crothers and Quinn portray the vitality, creativity and self-belief of the young Margo and her progress towards becoming a renowned multi-disciplinary artist and advocate of abstract art and design.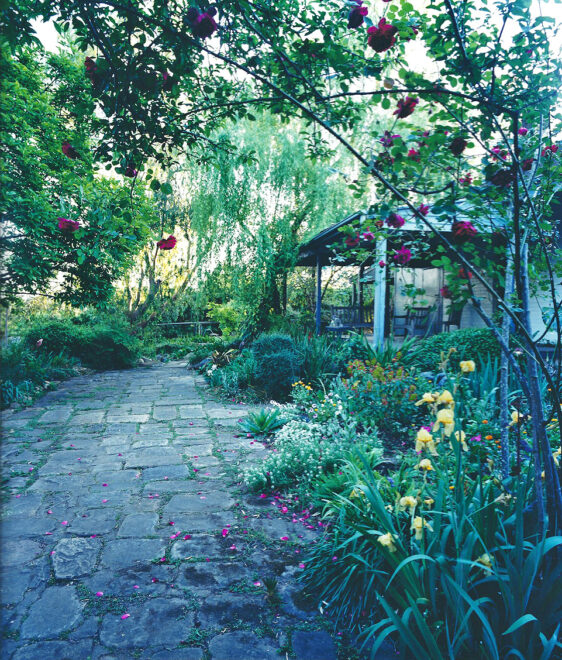 Gina Plate, Margo's niece, a horticulturist, garden designer and AGHS member, contributed the essay on the garden. Plate describes the development of the nascent garden from an almost bare block of land, following the Lewer's family's permanent move to Emu Plains in 1951. She takes the reader on a walk through each of the garden's interconnected spaces, detailing the backdrop of walls and verandahs, the arrangement of strongly coloured and textured plants, the contrasting green lawn, stone flaggings and rounded river rocks and the placement of Gerald's sculptures and fountains. Her portrayal of the seasonally changing garden brings to life its centrality in the varied interactions of the Lewers' family and friends and emphasises its essential role in Margo's art practice. The garden was her studio in which she worked during the day, experimenting with the emotional and visual effects of colour and textual combinations that she then explored in her studio where she painted or sculpted at night.
Architectural historian, Glenn Harper, provides insight into Margo's architectural, interior and landscape collaboration with celebrated architect, Sydney Ancher, during the 1950s and 1960s, and their contribution to post-war architectural modernism. Both Plate and Harper remind us of the vulnerability of gardens, interiors and buildings.
In the final essay, curator Virginia Mitchell speaks of Margo's desire that her collection to be on permanent display within a gallery surrounded by her garden at Emu Plains. Mitchell documents the realisation of the Penrith Regional Gallery, established in 1981, highlighting its significance: 'it is rare to find anywhere an intersection of site, story, art and architecture that expresses such an integrated vision of a period'.
The essay format of Margo Lewers – No Limits allows Margo's remarkable life to be easily enjoyed; the artworks and images photographed by Tim Wheeler are superb; and the endnotes provide a useful resource for further research. For lovers of modern gardens, art and design, this timely biography of Margo Lewers is highly recommended.
The book is available in hardback and soft cover directly from Grasstree Press 21 Avenue Rd, Mosman NSW 2088  and  also from good  bookshops: Booktopia, Dymocks, AGNSW Shop, MCA store and others