2021 Annual National Conference
10 September

-

12 September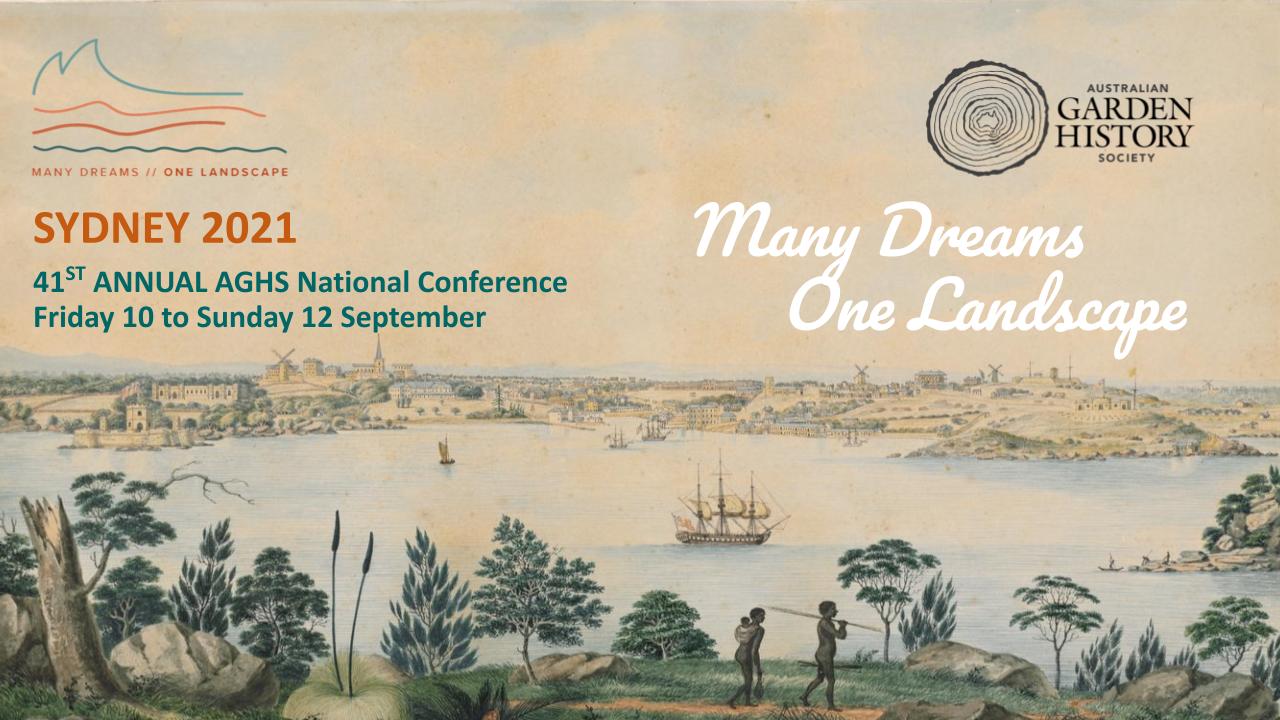 You are invited to attend the AGHS 41st Annual National Conference in Sydney, New South Wales.

Click here to register online now.

Brochures
For further information on conference events, or to register by printed form, the following brochures can be downloaded and printed:
AGHS 2021 Conference Brochure (including postal registration form)
Optional Day Thursday 9 Sep – Tall ship cruise and guided harbour walks
Optional Day Tall Ship Harbour Cruise
Optional Day Monday 13 Sep – Coach day trip exploring Camden gardens
Pre- and Post-Conference Tours
Accommodation and Travel Information
10-12 September 2021 – Main Conference
Luna Park, Milsons Point.
Today Sydney Harbour and its landform and waterways form the city's dramatic backdrop. In 1795, an Eora gathering performed the kangaroo and dog dance, an initiation ceremony at Wogganmagully (Farm Cove). Gadigal, Cameragal, Burramattagal and Bijigal leaders attended. Associated with the Sydney region, these groups have been connected to Country for over 60,000 years. Grace Karskens opens the conference with a retelling of the powerful forces that shaped the region's ancient natural environment. Other speakers include Michael Ingrey and Paul Irish, the Macarthur–Stanham family, Paul Aston, Ian Hoskins, Janine Kitson, Colleen Morris,Wendy Whiteley and Janet Hawley, Roslyn Burge, Bronwyn Blake and Stuart Read.  The day and a half of lectures will be followed by a day and a half of garden visits, a private ferry cruise and optional extras.
9 September 2021 – Green Necklace Harbour Cruise on the Tall Ship "James Craig" and Guided Harbourside Walks
Optional day. Includes light lunch.
The Sydney Branch conference committee invite you to join us on the Green Necklace Harbour Cruise to celebrate Sydney and its harbour, as part of part of the 40th Anniversary celebrations of the Society, an important theme of the 2021 conference. In the afternoon choose from a selection of brilliant guided harbourside walks.
13 September 2021 – Camden Coach Tour
Optional day. Includes lunch, morning and afternoon tea.
This day trip will explore the rural area of Camden and its gardens.
Pre and Post Conference Tours
6-8 September or 14-16 September 2021. Includes accommodation, garden visits, lunches and morning teas.
There are two identical three‑day/two‑night tours led by Stuart Read to historic gardens, villages and landscapes in the Blue Mountains.