ACT Monaro Riverina Branch: Versailles Gardens in Fact and Fiction
29 June 2022 @ 12:00 pm

-

4:00 pm

AEST
Soup, a talk and a movie in Wintery Gundaroo.
Join members of the Australian Garden History Society in the warm historic Gundaroo Memorial Hall on Wednesday 29 June, for a cheery afternoon in the Gardens of the Palace of Versailles. In pre-COVID days very many of us visited these gardens, often rather overwhelmed by their magnificence and commandingly ordered design.
After delicious home-made soup, we will find out something about the REAL story of the Gardens, with a short talk by Max Bourke about the genius and significance of Andre Le Nôtre. Not only was he responsible for the design and innovations evident in the use of water at Versailles, but he also designed Vaux-le-Vicomte, Saint Cloud, Chantilly and the Tuileries Gardens among many other great works of la style française. He will also introduce his favourite garden designer, a colleague of Andre.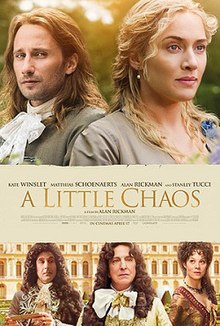 We will then watch A Little Chaos. This lavish and delightful movie presents the story of the development of the Gardens through a highly fictional lens, but one gratifying to those who love beautiful gardens and a good story, particularly a romantic one. It builds on the idea that behind every great man (Andre Le Nôtre in this case) is an even greater woman (a gifted female architect, Sabine de Barra, who champions the introduction of 'a little chaos' into the perfection of Le Nôtre's design).
Location: Gundaroo Soldiers' Memorial Hall, 52 Cork St, Gundaroo NSW 2620
Cost: $30 – includes lunch, the talk the film and afternoon tea.
Bookings: are essential. Book at Trybooking.
More information: Bronwyn Blake, 0439 718 580, blakesos@hotmail.com