Tasmania Branch: The Convict Road day tour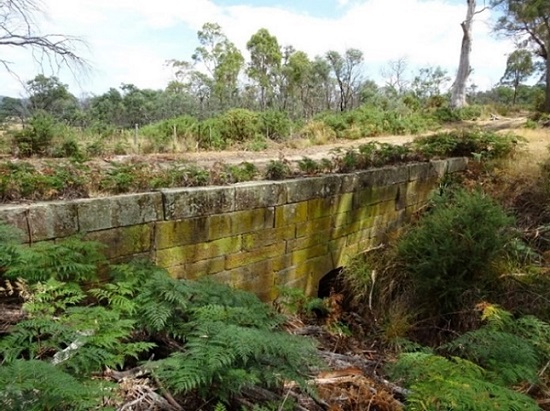 Bridge of ashlar sandstone on Woodsden property, 'first culvert', upstream side. Photo: M Ward.
This day tour will cover the unprotected heritage landscape of the "Convict Road" between Buckland and Orford.
On the north and west side of the Tasman Highway between Buckland and Orford lies a remarkably well-preserved roadway constructed by convict labour in the 1840s. Walk the old convict road with Dr Malcolm Ward, local historian and fellow AGHS member.
On the bus journey from Hobart Malcolm will provide a historic background for places on the way – Orielton, Black Charlie's Opening, Runnymede, Break me Neck and Bust me Gall, Buckland and Paradise Gorge.
The Convict Road walk: in the morning the moderate uphill walk on a farm track is 2 km return with some uneven ground and mud likely. After lunch at Buckland, the second section which starts from the Orford end, is a mostly level 4 km return walk, once again with some uneven rocky ground.
The itinerary includes an inspection of the Woodsden out-buildings, the Paradise probation station ruins, and perhaps a visit to the Australian Bushland Garden if time and energy permit. Expect to return to Hobart by 5.30pm.
If heavy rain occurs in the two weeks prior, this event may need to be modified or even cancelled at short notice as the walk crosses a couple of creeks. Tickets will be refunded.
A reasonable degree of mobility is essential for this excursion.
 Bus transport only. There are two pickup places:
8.45am opposite the TAS Bridge Assoc, 5 Marine Esplanade New Town
9.00am at the National Tiles car park, 66 Kennedy Drive Cambridge Park Retail Centre.
BYO: all food & drinks, including water bottle; sunscreen, hats. Some basic food & snacks can be purchased from the Buckland roadhouse
Cost: $33 pp; student/trainee concession $20.
Book: at Trybooking. Bookings close by Sunday 19th February; AGHS members only.
Enquiries & cancellations: email or text the contact person Wyn Manners: eventsaghstas@gmail.com or 0417 921 310.