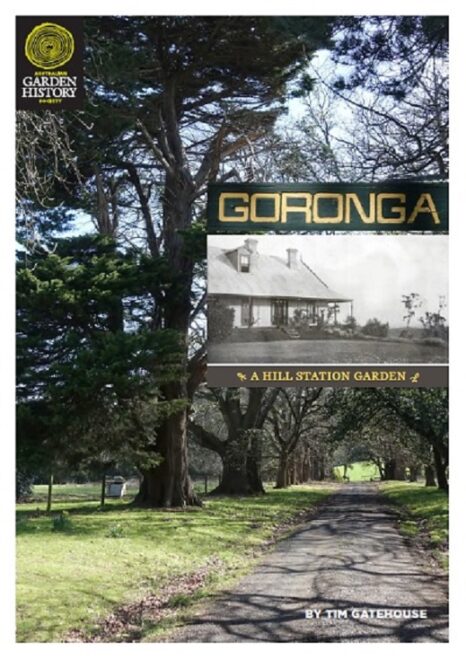 Goronga is a farming property in the foothills of the Dandenong Ranges, 55 kilometres from Melbourne on the territory of the Kulin nation, its traditional owners being the Boon Wurrung people. In their language, Goronga translates as 'the big camping ground'. The 24-ha property was established as a farm by selectors in the 1870s and in 1889 was purchased by Melbourne residents William and Matilda Raleigh, who created a hill station garden around the new house they built.
Tim Gatehouse, AGHS Victoria, has drawn on the family records and memorabilia to write the history of Goronga, which is now available for sale in soft or hard copy from the AGHS online shop. The publication was funded by the Australian Garden History Society.
Wendy Dwyer, Chair of the Victorian branch of the AGHS, says the booklet goes much further than the article published in the October 2021 issue of Australian Garden History. It couches the place of the hill station in more general garden history.
 I think it is the essence of what AGHS is all about.
Gatehouse writes about the property's role in conservation:
When William Mann took over Goronga [in the 1950s], much of it was still native bush which he began clearing in order to provide further pastures for sheep. Up until that time, in the best traditions of hill station gardening in India and Australia, the Raleighs and Manns had expressed their love of trees by planting only exotic species. When William became aware that the only birds in the garden seemed to be sparrows and blackbirds but hardly any native species, he realised that this was due to the loss of their native habitat. He stopped clearing and fenced off the remaining bush areas of Goronga to the south of the house and on the opposite side of Mann Road to protect them from depredations of stock. To ensure that these areas were permanently preserved, he placed them under conservation covenants … The covenants are voluntary legal agreements between the landowner and the Trust which are registered on the title to the land and restrict its use in accordance with the covenants' conditions. They are binding on any future owners…
Goronga is an example of how an exotic garden raised awareness of the fragility of the native environment and of how co-operation between private landowners and government agencies can lead to the preservation and harmonious existence of both. The concept of the hill station which began at Almora in the Himalaya in 1816, when the first English style gardens were carved out of the lush vegetation, has come a long way by the 21st century in Australia when a hill station garden became the catalyst for the preservation of the natural environment.
You can also find a slide show of the magnificent gardens on the website. The heritage images were provided by Elizabeth Fraser, the  current owner/occupier of Goronga, with the contemporary images created by Trevor Pitkin, AGHS Victoria.