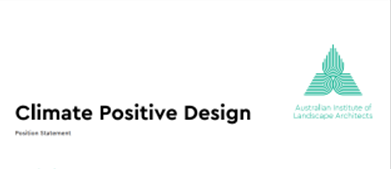 The Australian Institute of Landscape Architects advocates climate positive design, so that its projects provide net positive climate outcomes. They also provide environmental, social, cultural, and economic co-benefits. Over a cradle to cradle, design life assessment, they sequester more greenhouse gases than they emit.
www.aila.org.au/Web/Values/Climate-Positive-Design.aspx
AILA also has advice on creating green infrastructure (GI) strategy. Green infrastructures (GI) are the strategically planned networks of natural and semi-natural areas in urban and regional settlements that provide environmental, social and economic benefits to society. Governments and the wider community have for centuries relied on urban natures such as parks and public spaces to improve the social and environmental conditions of our built environments. Confronting today's challenges presented by global warming, urban
migration and environmental decline requires new forms of infrastructure and new approaches to landscape planning and management in our urban and regional settlements. Developing a GI strategy helps us to understand what the ecological and biological components of urban systems are; prioritise the preservation and the enhancement of those green structures and engage in cross disciplinary dialogue about how to achieve more sustainable and resilient urban systems.
www.aila.org.au/common/Uploaded%20files/Green%20Infrastructure%20Position%20Statement.pdf