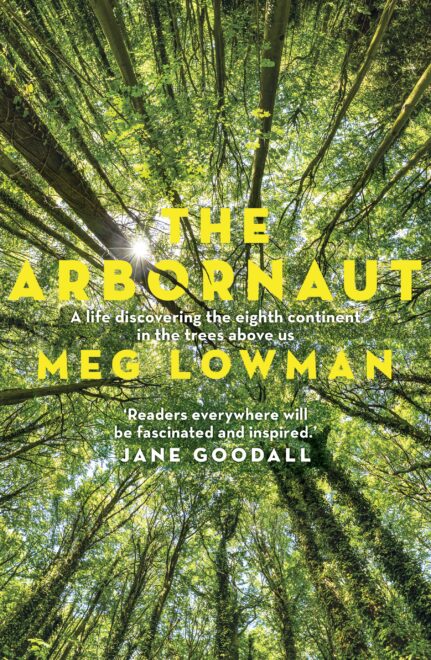 Book review by Max Bourke AM
I seem to be making a habit of this. Last year I got very excited about the wonderful book by Suzanne Simard Finding the Mother Tree and said so in a review for AGHS (https://www.gardenhistorysociety.org.au/2021/09/finding-the-mother-tree-book-review/).
Now I've read another stunning piece of scientific research cum autobiography cum science field notebook by an eminent woman scientist concerning trees! The Arbonaut. A life discovering the eighth continent in the trees above us.  by Meg Lowman (Allen and Unwin, 2021) is both astonishing and engaging.
To start with this book got me in because the foreword is written by Sylvia Earle, one of my favourite scientist/explorers, who I had the privilege of meeting when she was still working as the founder of Mission Blue. She is a hugely well-known oceanographer (and a Time magazine 'hero of the planet'), who has combined good science with great public communication skills, a little like Jane Goodall but in a different domain.
The key difference between Lowman's book and Simard's is that they are interested in the opposite parts of trees: Simard the roots and sub-soil connections; Lowman the canopy and what is often out of sight for earth-bound humans.
Lowman, like  Simard, weaves together an intriguing life story with her science lab notes. She undertook her PhD at Sydney University and later worked at the University of New England, conducting research in widespread locations around Australia. I am sure there would be members of AGHS who met her during her long stay in Australia.
Her research work, of great importance in itself, is matched by her various 'teaching' roles in universities, schools and most importantly museums. But possibly her greatest contribution has been in developing  canopy skywalks around the world. In some ways she was the founder of this concept, initially because it gave her more ready access for her research. But over recent decades she has been instrumental in assisting a variety of public and private canopy skywalks.
These have led to even better research and the use of citizen science groups that have encouraged still more eyes on the ground. I am looking forward to visiting one of them, the 'Habitat' skywalk above Georgetown in Malaysia, soon.
I  commend this book to arborists and garden lovers because  it unveils 'the eighth continent', as Lowman calls it, the canopy.