Eryldene is a historic house and garden in Sydney, with an important collection of camellias. The Eryldene Trust has recognised the need to respond to changing climatic conditions to conserve Eryldene's heritage values and has therefore developed an Environmental Sustainability Action Plan. As part of its sustainability work, Eryldene recently held an online event, CRUNCHTIME, where speakers from the USA, UK and Australia  discussed their experiences working with historic gardens. Recordings of each speaker are now available on Eryldene's YouTube channel.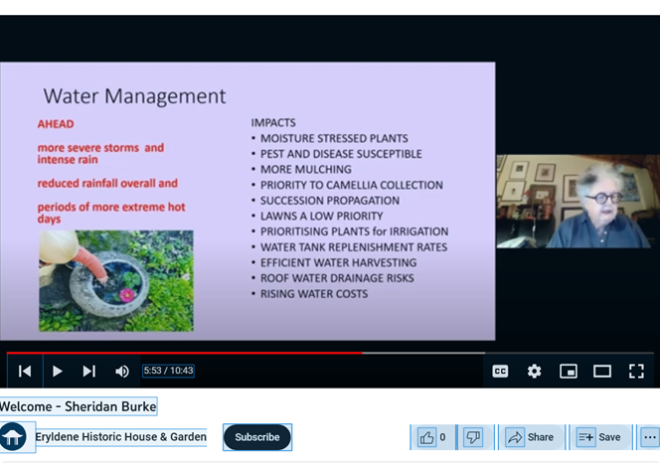 Again and again speakers spoke about water management as a key challenge: its paucity during droughts and the need for irrigation and new plantings or alternatives to swathes of lawn; and the opposite problem — too much water more often.
It was shocking to hear John Watkins from the English Heritage Trust warn that autumn could lose its colour. In a warming climate, it's possible there will be less change in colour and leaf fall because trees need frost to break down the sugars in their leaves.
Most of the gardens spoken about rely on events for income. How these events are arranged in the face of climate change requires a new set of sustainability guidelines.
Bringing people into the gardens is also an opportunity for helping to effect the change of mindset required to adapt to climate change. We cannot afford to cling only to the preservationist approach, a point Imogen Wood, National Trust Historic Gardens UK  stressed, and which Tim Entwisle, Director and Chief Executive of Royal Botanic Gardens Victoria, reiterated in his talk. Professor Entwisle, the AGHS's patron, also presented the AGHS climate change framework for action. Trevor Nottle, another AGHS member, spoke about the challenges facing Carrick Hill on the outskirts of Adelaide. Both he and John Watkins emphasised the need to train people working in these precious gardens about how best both to conserve and adapt.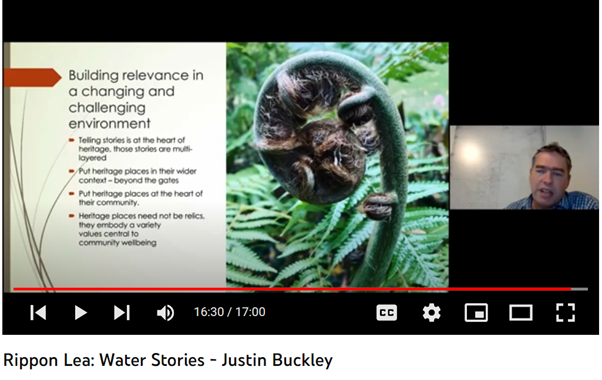 Justin Buckley, executive manager of gardens, National Trust Victoria, presented a case study from Rippon Lea in Melbourne demonstrating the power of new technology — augmented reality — to reveal an underground water system that is the hidden lifeblood of the property.
His talk and many others made clear how important it is to tell the stories of our efforts to cope with change, as well as to keep the history of place alive in as many innovative ways as possible. At Filoli, 16-acres of formal gardens built on the San Francisco bay, those stories are being drawn from the original custodians of the land, the Ramaytush Ohlone people, and being passed on to young visitors to the Filoli.
And for those who love camellias, Diana Nightingale's talk about rediscovering the heritage of the camellias at Descanso Gardens in California is great viewing. Congratulations to the Eryldene Trust for a  fabulous set of talks, that both build knowledge and offer practical strategies for coping  in the climate crisis.
Francesca Beddie